Solutions
Versatile. Safe. Reliable.
Remote Monitoring

Enabling OEM support and maintenance services

Over-the-air software updates
Defined operating modes

Independent safety certification

Ability to run in dynamic work environment

Unique Features Differentiates Thoro From Competing Technology Providers...
Agility
Provides a tight turning radius that allows the machine to make sharp turns, yet without leaving a trail of water behind.
Stays up and running in dynamic environments: autonomy system can recover from interruption.
5-6 hour battery life makes up for slightly narrow scrub deck.
Fits in small tight areas.
Three modes for all purposes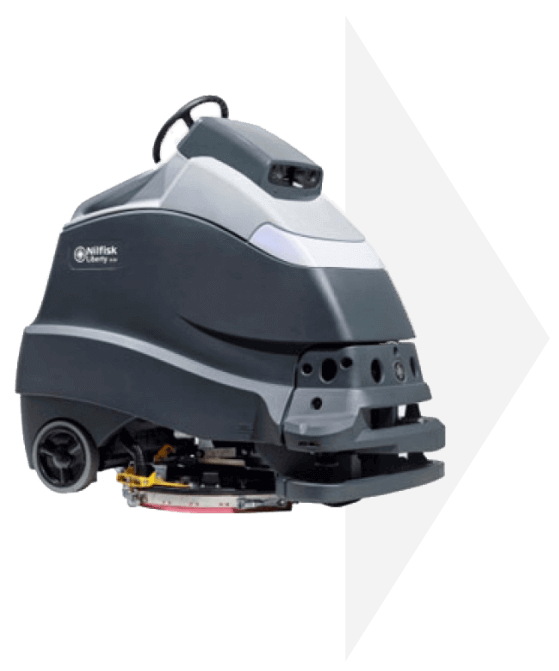 CopyCat™ Mode
Replicates a designated cleaning path with exact precision, allowing you to dictate where and how you want the Nilfisk Liberty SC50 to clean.
Fill-in mode
Lets you implement autonomous cleaning the fastest way possible – no pre-mapping or programming required. Just trace a room's perimeter, and interior space will be cleaned without any further assistance
Manual mode
Gives you complete control over movement and cleaning, allowing use as a normal scrubber dryer for ad-hoc tasks.
Safety is a prime objective for all that Thoro does, and our solutions are engineered to ensure smooth synergy within all operating environments.
Safety
The Thoro autonomous platform, is capable of achieving independent third-party lab safety certifications
The Nilfisk SC50, meets meets the CSA/ANSI 336 safety standard for robotic floor cleaning machines
Thoro also offers dynamic object avoidance - agile, autonomous navigation that works
Thoro engineering enables safety certifications in other applications
Adjusts in real-time to route changes and obstacles

User-access configuration prevents unauthorized intervention

Works with confident poise around people


In an industry where targets are more stringent than ever, the Nilfisk Liberty SC50 delivers intelligent consistency and reliable results every time. You can expect the same performance standard from one job to the next, making the Nilfisk Liberty SC50 an excellent solution for environments where floorcare requires a focus on both hygiene and presentation. Custom user profiles allow you to provide different operators with different levels of access to the solution's functionality. Individualised usage data, analysed by TrackCleanTM, provides you with full operational oversight, so you always know exactly when, where and how the cleaning was performed
Why delegate valuable human resources to large areas when an autonomous machine can handle the job just as easily? The Nilfisk Liberty SC50's Fill In mode is ideal for high volume cleaning, with a single water tank allowing for up to 2.5 hours of cleaning, and a single charged battery providing up to 5.5 hours of runtime. Your operator will be notified when the job is done, so they can devote their attention to the details that make all the difference.
A high cleanliness standard is critical when parts, people and vehicles are on the move, and cleaning must often be conducted as quickly as possible within a specific timeframe. The Nilfisk Liberty SC50 can clean in hazardous production areas without requiring operational shutdown, and its sensor array allows it to operate in low light conditions with equal effectiveness. The result? Consistent cleanliness, efficiency and productivity from one production cycle to the next.